Csound is a sound and music computing system which was originally developed by Barry Vercoe in 1985 at MIT Media Lab. Since the 90s, it has been developed by a group of core developers. A wider community of volunteers contribute examples, documentation, articles, and takes part in the Csound development with bug reports, feature requests and discussions with the core development team.
Although Csound has a strong tradition as a tool for composing electro-acoustic pieces, it is used by composers and musicians for any kind of music that can be made with the help of the computer. Csound has traditionally been used in a non-interactive score driven context, but nowadays it is mostly used in in a real-time context. Csound can run on a host of different platforms including all major operating systems as well as Android and iOS. Csound can also be called through other programming languages such as Python, Lua, C/C++, Java, etc.
One of the main principles in Csound development is to guarantee backwards compatibility. You can still render a Csound source file from 1986 on the latest Csound release, and you should be able to render a file written today with the latest Csound in 2036.
Csound takes two specially formatted text files as input. The orchestra describes the nature of the instruments and the score describes notes and other parameters along a timeline. Csound processes the instructions in these files and renders an audio file or real-time audio stream as output.
https://github.com/vlazzarini/opcode_compiler - experimental opcode builds on the initial work by Michael Goggins, and is based on the llvm/clang interpreter example code. It provides a just-in-time C module compiler, which can be used to add new opcodes to Csound on-the-fly.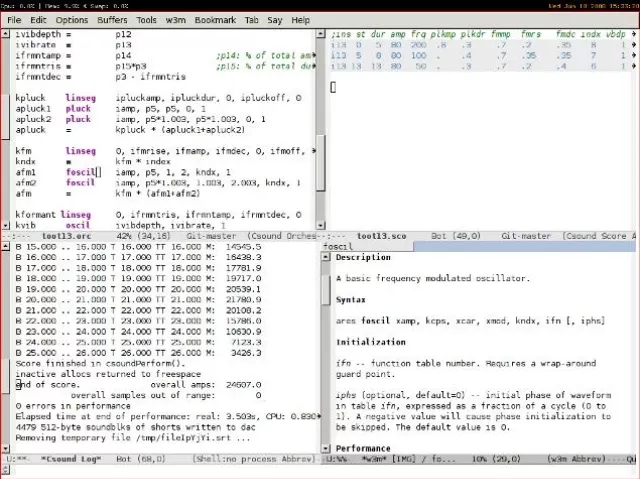 Platform(s)
GNU/Linux
BSD
macOS
Windows
Android
iOS
Software features
DSL/scripting
Livecoding
Audio input
Audio FX
Synthesis
MIDI
Microtonal