Synthpod is an LV2 host. It can be run as a standalone app and be used as a tool for live performances or general audio and event filtering.
It was conceptualized to fill the gap between pure textual (e.g. SuperCollider) and pure visual flow (e.g. Pure Data) audio programming paradigms.
Potential fields of application may include:
Live audio synthesis
Real-time event scripting
Non-linear signal routing
Advanced control automation
Advanced event filtering
Live mixing
Live coding
Algorithmic composition
Interfacing to expressive controllers
The standalone host saves its state in the same format as an LV2 plugin instance,
It may be run on top of an audio system (JACK or ALSA) and on top of an event system (MIDI and OSC). It can be run with a GUI or headless. You can e.g. prepare a patch on your desktop machine and then transfer it to a wearable synth.
Synthpod takes a totally modular approach whereby it provides only the minimal necessary host infrastructure expected by a given plugin.
All additional, non strictly necessary glue shall be implemented with plugins. Synthpod e.g. can be extended with OSC via Eteroj. Sequencing and looping may be added via plugins from the Orbit bundle. When paired with realtime scripting via Moony, it turns Synthpod into a versatile realtime programmable, remote controllable LV2 host framework.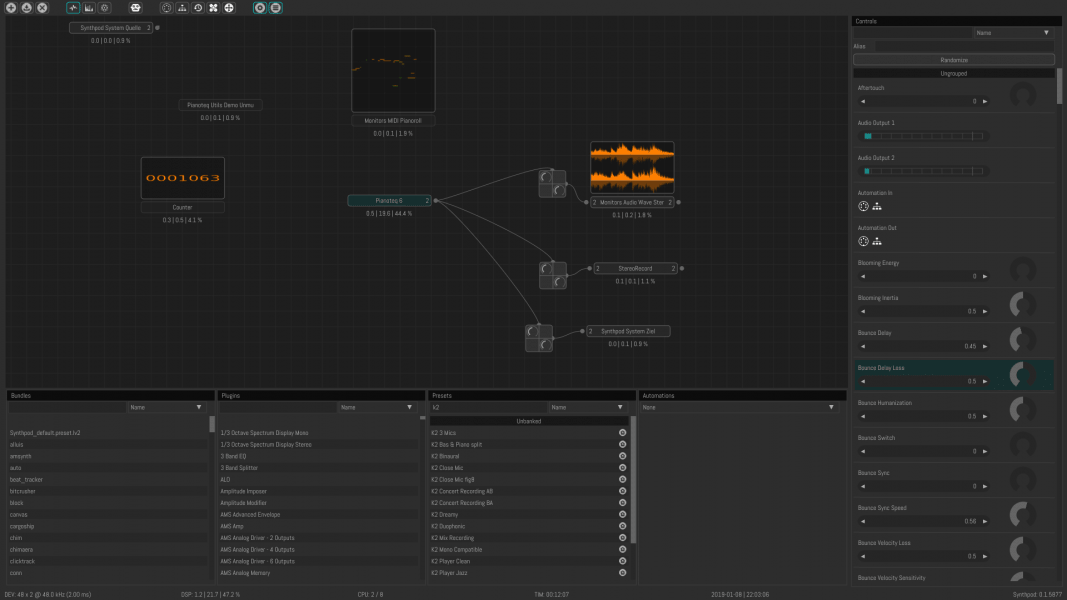 Software features
LV2 host
MIDI
Modular
Audio input
Developer(s)
Open Music Kontrollers (ventosus)