MelMatchEQ.lv2 is a profiling EQ using a 26 step Mel Frequency Band.
You could analyze the spectral profile of a sound source by press 'Match1'. Press 'Match1' again when done. Now you could (optional) save the profile by press 'Profile' and select 'save', enter a name for it in up popping text input field and press 'ok'. This way you could later reuse it to compare it with other sound sources.
After that (or after loading a profile from the menu), you could profiling the second sound source, the one you want to match the spectrum of the first source by press 'Match2'. Press 'Match2' again when done. MelMatchEQ will calculate and apply the needed EQ settings to match the spectrum of the first profile. Those EQ settings you could save as preset (host side).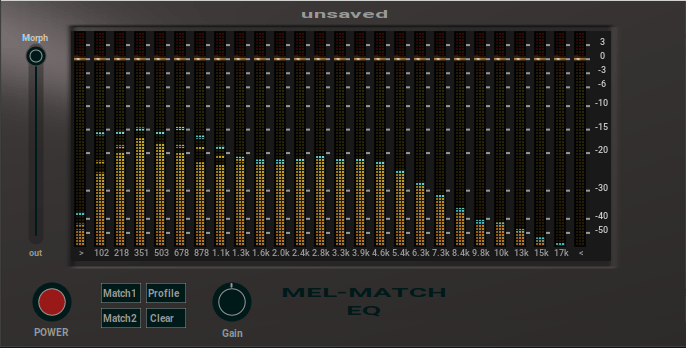 Developer(s)
Hermann Meyer (brummer10)